As I announced earlier in the month, this year I had been given the honor of being one of the judges in
the Cupcake Project's 5th annual Ice Cream Cupcake Contest
... and the time has finally come for the judging portion!
I can't think of anything better than my two favorite desserts cleverly combine into a sweet little plate of sugary deliciousness! I couldn't be more excited to participate and drool over all of the fabulously creative combinations... but never had I anticipated how difficult the judging process would be! Pretty much ALL 72 participants in the contest REALLY blew me away and had me bookmarking recipe ideas all month long.
The whole month of June, the entries have been slowly trickeling in as I feasted my eyes on some truly inspiring ice cream cupcake combos! To have to narrow it down from over 70 entries... to 3 probably took longer than going through and reading each individual recipe idea. I was given instructions to judge on
perceived deliciousness, creativity, and presentation
- in that order of importance. The ice cream cupcakes must contain cake and ice cream (or frozen yogurt, gelato, or something ice cream-like), but since I am a HUGE frosting fan, the recipes that incorporated frosting or a fun topping into their cupcake/ice cream recipe really caught my eye ;) So here they are:
LINDSAY ANN'S TOP 3 FAVORITE ICE CREAM CUPCAKES
These sprinkle studded, cake batter flavored desserts immediately caught my eye because of their fun presentation! I LOVE cake batter flavored ice cream, like the kind you get at those fancy creameries. Paired with a yellow confetti cake (one of my fave cake flavors along side chocolate) and the addition of whipped topping, these sounded like the most delicious, creative and fun ice cream cupcakes ever!
Cupcake Flavor: Yellow Confetti
Ice Cream Flavor: Cake Batter with Sprinkles
Frosting/Topping: Whipped Cream
The cool refreshing combo of mint and chocolate is one of my personal favorites, and I could literally shovel chocolate buttercream into my mouth by the spoon full, so these were a clear favorite for me. I also loved the presentation of the homemade mint chocolate chip ice cream sandwiched between the cake with the generous slab of rich chocolate buttercream on top... mmm.
Cupcake Flavor: Chocolate
Ice Cream Flavor: Homemade mint chocolate chip
Frosting/Topping: Chocolate Buttercream
Now, these cupcake didn't have frosting... but they did have a warm buttery bourbon brown sugar caramel apple pie filling (try saying that 5 times fast) on top of the cupcake. And using the ice cream to serve these a la mode with the homemade caramel sauce on top was such a creative and delicious way to bring one my my favorite autumn time treats to summer!
Cupcake Flavor: Vanilla Buttermilk
Ice Cream Flavor: Vanilla
Frosting/Topping: Homemade caramel apple pie filling
Garnish: Homemade caramel sauce
These cupcakes were ever so close to making my top three that I just had to mention them!
These
Black Raspberry & Lemon Crush Ice Cream Cupcakes from blogger Tidy Mom were a close contender. They are the perfect combination of refreshing summertime flavors topped with marshmallow frosting and fresh fruit, yum! Not to mention the absolutely beautiful presentation!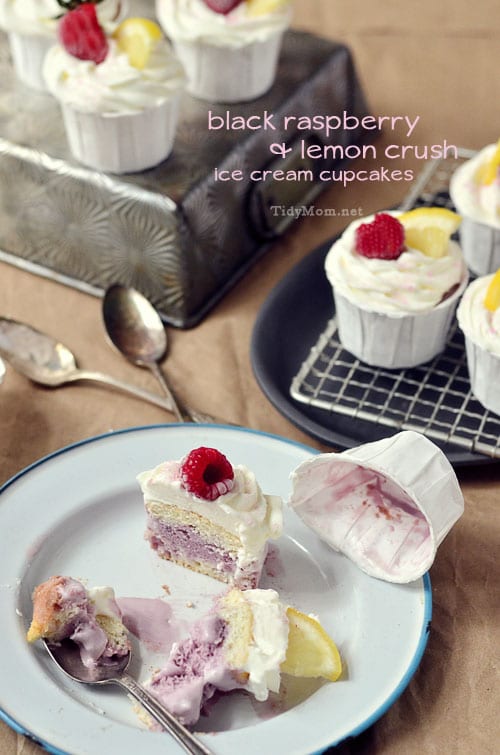 --
These
Ice Cream Cupcake Peanut Butter Cups
also caught my eye immediately! I LOVE Reese's cups so the combination of PB ice cream and chocolate cake sealed in an edible chocolate cup was one of the most creative recreations of the peanut butter cup I have ever seen. If there was a layer or chocolate or peanut butter frosting between the two layers, they would have definitely made it into my top three! I just want to reach into the computer and pop them into my mouth ;)
--
Thanks to everyone who participated and entered for a chance to WIN a $250 gift certificate to your favorite cooking/baking supply store OR one of the three entry prizes that will randomly be given away to three lucky participants! Be sure to check out all of the
entries
for yourself and show some of your new favorite bloggers some love by commenting on their post! Most of all, a big thank you to Stef from
The Cupcake Project
for the opportunity to participate in judging the contest! She has such a fabulous blog, all about, you guessed it... CUPCAKES (and other incredible sweets and
genius
recipes) so make sure you check her blog out at
The Cupcake Project.com
!